The vision for MedHab dates back to 2007 when Johnny Ross, Co-Founder and CEO, went through total knee reconstruction surgery.  Although Mr. Ross never endured a knee injury during his sporting years in high school and college, he simply wore the cartilage down to the bone. The options were to undergo total knee replacement surgery or total knee reconstruction employing the CARTICEL procedure. Having chosen the latter, Mr. Ross underwent a long and grueling rehabilitation process.
When Mr. Ross was able to begin the rehabilitation process, he was asked to follow a very strict regimen of partial weight bearing and range of motion exercises. Over time, he was able to place more weight on the affected limb starting with 20% of his body weight and graduating to higher amounts every two to three weeks until 100% of body weight was reached. This was very difficult, as Mr. Ross had to estimate how much weight was being placed on his injured leg. Additionally, range of motion was determined by employing a goniometer, which is a protractor type of hand held instrument, and is subject to personal biases of the person making the measurements.
After the rehabilitation process was complete, which lasted nearly 12 weeks, Mr. Ross started contemplating ways to make this system better. He believes there is a need for a better way, as currently there is no way for a patient to determine the amount of weight they are placing on the affected limb, or exactly how much improvement they are making regarding range of motion. Additionally, it is very difficult for surgeons and physical therapists to know how the patient is progressing and whether or not they are doing home exercises as prescribed. Not having access to this information makes it difficult to determine when to move the patient to the next stage of rehabilitation, as well as deciding when the rehabilitation should be completed.
The company was launched in December, 2008, and patents on the technology were received in May, 2011.
StepRite's Product History
Photos featuring early production stages of the StepRite unit.
Johnny Ross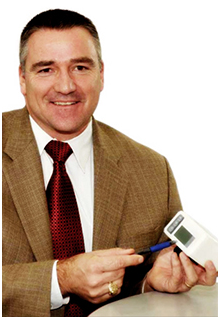 Johnny Ross has nearly 15 years experience with Johnson & Johnson in various levels of leadership. While there, he was responsible for representing Johnson & Johnson's small molecule portfolio consisting of 16 products where he liaised with regional health plans and integrated systems, and PBM's to negotiate pharmaceutical formulary positioning. While at J&J, he also worked directly and indirectly with the field sales force, where he managed the Women's Health Care Sales Force in Texas. He worked with field based regional business directors, district managers and field representatives, providing up to date market information to develop non-contractual and contractual push and pull through strategies. Finally, his tenure at J&J afforded him the opportunity to manage several projects related to business development and field sales. He started his career with J&J as sales representative in West Texas. Throughout his career at J&J, he was constantly recognized as a top performer, winning three Presidential Trophies, named Strategic Market Director of the year once, District Manager of the year three times, and sales representative of the year three times. Johnny received his BS in Political Science from Texas Tech University in 1986 and his Masters of Public Administration from Angelo State University in 1989.